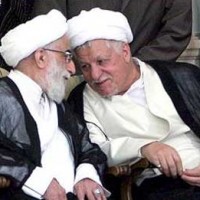 With the Guardian Council set to announce the final list of Iranian presidential candidates on Tuesday, after vetting a staggering amount of  hopefuls (686 to be exact), a few contenders have been making some prominent headway.
Prior to the registration deadline it seemed as if many Iranian voters were going to sit out these elections due to a lack of reformist candidates. Yet in the final minutes of the deadline, former president, and supposed reformist candidate Ali Akbar Hashemi Rafsanjani–referred to by some as "the Shark"–entered the fray. To add to the strange mix of events, President Ahmadinejad accompanied his right hand man, Esfandiar Rahim Mashaei at the last minute as well.
In the conservative camp, the so called 2+1 coalition made up of International Affairs advisor to the Supreme Leader, Ali Akbar Velayeti, Tehran mayor Mohammad-Bagher Ghalibaf, and former parliament Speaker Gholam-Ali Haddad Adel have all thrown their weight in the mix.
What does all this mean for the June 14th election? For one thing, this truly shows that the Islamic Republic has domestic politics where contenders are vying for support in different camps. As one local Iranian analyst put it, "Conservatives had been very comfortable with their prospects before Rafsanjani entered the race," yet now, "they face a major challenge, since they know his presence will attract voters to the ballot box, and likely not in their favor."
Second, this election cycle is shaping up to be as contentious as ever, which is not what the Iranian leadership would have hoped for this time around.  Principlists have been highly critical of  Mashaei for his "deviant" view of Islam, and quick to discredit Rafsanjani for his support of the 2009 Green Movement. Some have even made claims that the 78-year-old Rafsanjani should be barred from the presidency on the count that he is too old to lead the country.
Yet even if Rafsanjani clears the vetting process, any president's policies is going to be constrained by the Supreme leader's ultimate approval, as well as an economic system in pieces from sanctions and government mismanagement. As the conservatives attempt to unify their candidates to one representative, it will be interesting to see if the Guardian Council approves of Rafsanjani's bid, and if they do, will reformists rally around Rafsanjani or another candidate entirely.
Back to top